The process of selling a home is often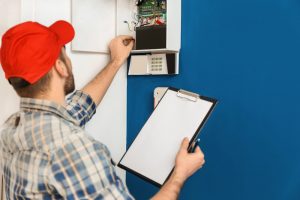 far more intensive than many homeowners think. Before you're able to list your home on the market, you'll need to complete any repairs or restoration projects that you've been putting off. That is especially the case when you consider the state of your wiring.
Most realtors require you to complete an electrical home inspection before they list your home. This process allows you to guarantee the safety of your home and wiring with backing from an experienced electrician.
What, though, does an electrical home inspection involve? When you work with the Poss Electric Company team in Woodstock, GA, you'll be able to participate in the inspection process, learning about your home's quirk and the market's expectation for your listing all the while.
Keeping Your Home Up to Code
If your home isn't up to "code," then you risk losing a significant percentage of your home's market value. What is that "code," though, and what kind of expectations does it set for your property?
The United States established the
National Electric Code (NEC)
to help homeowners stay on top of electrical maintenance. Initially drafted in 1975, this code has been revised over a dozen times to keep up with new technological developments. The frequent coding changes can make it difficult to keep older homes, particularly in line with the federal government's expectations.
However, each home that goes on the market must either meet the code's expectations or list its deficits. That means that interested buyers may have the right to argue for a drop in your listing price based on any electrical repairs you failed to invest in.
At this point, the full extent of residential electrical code covers the installation of electrical conductors, raceways, and equipment like smoke detectors. You can work with our team to hammer out the specifics of the NEC and how they may apply to your property.
Walking Through an Electrical Home Inspection: Room by Room
An electrical inspection isn't a painful process. When you work with the Poss Electric Company team, you can trust us to walk you through each stage of our assessment. We'll point out potential problems areas in each room of your home, as applicable, and help you brainstorm affordable repairs before listing your home on the market.
Your Garage
Depending on the age of your home, your electrical panel may or may not make its home in your garage. If it does, you need to ensure that it stays as untouched by Woodstock, GA, weather as possible. Otherwise, you risk enduring panel damage and subsequent power failures throughout your home.
High levels of humidity can leave your electrical panel rusted or prone to tripping. Also, the wiring leading out of your garage may be more worn than the wiring elsewhere throughout your home. Our inspectors will also keep an eye out for mold, as it can present a threat both to your circuit's functionality and a potential buyer's health.
Above all else, though, you'll want to make sure that your electrical panel is up to date. The NEC requires electrical circuits in modern homes to include AFCI breakers (Arc Fault Circuit Interrupters). Our team can help you install these interrupters, ensuring that your home will stay as safe as possible from unexpected storms or discharge damage.
Other Garage Features
That said, other electrical features in your garage may benefit from a professional's attention. If you have a personal security system installed, our team can ensure that the humidity or other weather events haven't impacted its effectiveness. Similarly, we'll make sure that your garage door works both safely and efficiently, depending on its age and condition.
Your Kitchen
Your kitchen is going to be one of the electrical hotspots in your home. As such, our team will take our time ensuring that every outlet and appliance in this space works as it should. Some of the most common electrical problems found in your kitchen include the following:
Missing GFCI outlets

Inefficient or dead appliances

Frequent electrical discharge from kitchen appliances
Our team specializes in GFCI outlet installation. We can help you not only update your outlets(if necessary), but we can also ensure that they're providing as much power to your appliances as they're expected to. 
Your Living Room and Bedroom
While your living room is a higher-traffic area than your bedroom, both rooms require similar electrical maintenance before a sale. You'll want to eliminate common problems like dim or flickering lights and inappropriately placed cords. If you frequently smell smoke or electrical discharge, make sure to get in touch with a professional as soon as possible. It's possible that some of the wiring in your light fixtures or outlets may be burning your insulation.
Your Bathroom
Your bathroom, like your garage, is a haven for humidity. While the source of moisture in these two rooms may differ, it can have the same impact on any electronics you have in the area. When you sell your home, it's more than likely you'll run into water damage when inspecting your bathroom's outlets. We'll take the extent of this damage into account during our electrical inspection and fit your home with replacement wiring, outlets, or other applicable materials.
Common Electrical Issues in Marketable Homes
Some presale electrical problems in modern homes are relatively ubiquitous. While our team will keep an eye out for your home's unique quirks during a room-by-room inspection, some of the most common electrical problems we treat in pre-sale homes include:
Ungrounded Outlets
Outlets need to have enough slots for three-prong plus. That way, any electronics that potential buyers plug into your circuit is less likely to shock its user. Most homes built before 1960 lack grounded outlets, meaning that you may need to fit your property with replacements before working with a realtor. Our team can take over your electrical outlet installation process, should it seem that you'd benefit from a grounded upgrade.
Exposed Wiring
As the wiring throughout your home ages, its protective covering can start to wear away. Even if you don't see this damage, it can make it more difficult for new buyers to make use of your home's many appliances. What's more, exposed wiring raises your home's fire risk. To reassure potential buyers of your home's sound nature, you'll need to repair any spliced or taped wires, be they inside of your junction box or elsewhere throughout your house.
Painted Outlets
Many homeowners paint their outlets to improve the appearance of their property. While aesthetically pleasing, this move can actually reduce an outlet's effectiveness. Painted outlets are more likely to overheat than untreated outlets, meaning that they can fry your electronics more easily. You'll need to replace any painted outlets before listing your home, or else you risk losing some of your property's market value.
Fuse Boxes and Tapped Circuit Breakers
Most modern homes rely on service panels instead of fuse boxes. Because many fuse boxes can disconnect from your home's different rooms with ease, our team recommends replacing an older box with one of the more modern service panels on the market. We can help you through an electrical panel upgrade or a complete replacement, depending on your realtor's recommendations and your home's needs.
In a similar vein, our team will want to make sure that your circuit breakers work as efficiently as possible before the sale of your home. If you have any hot wires running through your breaker, either due to your home's age or home repair projects, our team can fit you with safer repairs.
Modified Electronics
If you or a loved one has had to hotwire any electronics in your home, be sure to let a touring electrician know. You'll need to replace any of your DIY fixes with professional repairs before you sell your property. Marketing a home with DIY electronic modifications in place can violate National Electric Code while also putting future buyers at risk for significant property losses.
Contact an Electrician Near Me
Electrical inspections are part and parcel of selling your home. If you're preparing to put your home up on the market, make sure you have a Poss Electric Company electrician make their way through your home. Our team can not only identify potential electrical problems throughout your home but offer solutions, as well. If you're on a tight budget, you can sit down with one of our representatives to discuss the repairs that suit your needs best.
Don't wait to reach out to one of our Woodstock, GA, electricians. To schedule your electrical home inspection, call or send us a message through our online form.