Do you have Sycom surge protector? OR a surge protector at all? 
You might not know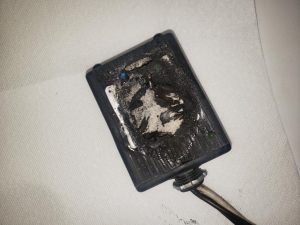 it but there was a public release discouraging the use of Sycom surge protectors as they are potentially dangerous and may pose fire hazard.
What is whole house surge protection?
A whole house surge protector protects all the appliances in your home from voltage spikes (power surges), by limiting excess electrical current by blocking its flow or shorting it to ground. Surges can happen for several reasons, the most feared is the lightening strike, but can happen because of downed power lines or sudden changes in electricity used by nearby large companies.  However, most surges, believe it or not, come from inside your own home from major appliances cycling on and off.
Why should I have a whole house surge protector?
Many components in our everyday electronic devices are sensitive to power surges. A power surge can easily damage any electronics. This includes computers, televisions, lights and other fixtures, washers, dryers, stoves, refrigerators, and many more electrical items in your home.  Not only do you want to protect your electronics but also the safety of your family.  The picture above is a sobering example of the kind of damage that can be caused by a power surge. With all of today's electronics and for the safety of your family, one cannot afford not to protect your home with a whole house surge protector! 
What is the skinny with Sycom's surge protector recall?
The picture above is an actual Sycom whole house surge protector recently removed from a client's panel. We do not know which model she had as the label has been utterly disintegrated. She got lucky this time and no fire erupted but, as you can see, one could have easily been ignited. 
What should I do if I have a Sycom surge protector or just want a surge protector to protect my home?
Perhaps Sycom had a point when they stated that the surge protectors were not properly grounded. That is why you should have the professionals at Poss Electric either come and replace a Sycom surge protector or install a new one. A properly installed surge protector could take up to two hours to complete. Without proper grounding, your whole home surge protector will not function properly and can cause problems that lead to malfunction of the surge protector and fire hazards. Unless you are a highly skilled electrician, we do not suggest this as a DIY project, and you should consult an expert.
Give your home and family the safety and protection they need by contacting Poss Electric to quickly and safely install your whole house surge protection today!