As the driver of an electric vehicle,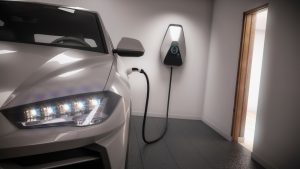 you're part of a whole new generation of motorists. Electric vehicles help to minimize our impact on the environment, as well as reduce our dependence on foreign oil.
Here in Woodstock, GA, electric vehicles are increasingly common. But how can you keep these innovative machines "fueled?" Service stations abound for traditional gasoline engines, but the chargers compatible with your electric vehicle (EV) can be a bit harder to come by.
That's why Poss Electric Company is proud to offer our Woodstock neighbors EV charger installation services for their state-of-the-art machines.
Total Convenience
When you have an EV charger at your home, you'll get the benefit of charging your car on your schedule. 
There are three main types of EV charger you can choose from, though you should always be sure to check with your auto manufacturer to determine which chargers will be right for your make and model.
Level 1 Chargers
Level 1 chargers are the most basic. They are often included with the purchase of electric vehicles. They require no installation, but they can take as long as 20 hours to fully charge your vehicle. That usually only translates to about 4-5 miles worth of battery life for every hour of charging. You can imagine why many electric vehicle owners are ready to upgrade to something faster!
Level 2 Chargers
A Level 2 charger requires its own 240-volt circuit. An electrical technician can install this type of charger in your garage. Level 2 chargers can charge your vehicle in 3 to 8 hours.
At Poss Electric, we recommend a charger that provides at least 30 amps, though we also have units that go as high as 80 amps. Generally, a 50-amp charger will give you 50 miles of driving for every hour of charge.
You may also want to think ahead and install two chargers. If you ever upgrade to two electric vehicles, you will already be prepared!
Level 3 Chargers
Level 3 chargers can charge your car in only around 30 minutes, but these advanced chargers require an industrial supply of power to install. Most homeowners will want to avoid these. However, some landlords may be able to attract and retain tenants by offering these chargers at their apartment buildings.
Total Protection
Your car's battery is a sensitive piece of equipment. You can prolong the lifespan of your battery by charging it according to the manufacturer's specifications. 
When you install a Level 2 charger at your home, you will be in the best possible position to ensure that your battery is regularly charged, which will minimize the need for frequent maintenance and replacement.
Total Control
When your home has its own Level 2 EV charger, you will be in control of your car's charging cycle. Rather than waiting overnight for your slow charger to do its job, you can have your car "fueled up" and ready to go in as little as 3 hours. 
Some Level 2 chargers even have programmable modes, which lets you have total control over your vehicle's charging schedule.
Is EV Charger Installation Right for My Home?
When you contact the team at Poss Electric Company, we will evaluate your needs and provide recommendations based on your home and your vehicle. Our team of experts can provide you with services like:
Determining which type of charger is compatible with your vehicle
Inspecting your home's electrical systems
Upgrading your electrical system to support a 240-volt circuit
EV charger installation that meets manufacturer and safety codes
Educating you on the safe and proper use of new equipment
Don't have a garage? We can ensure that you get an EV charger that's rated at NEMA-3 or NEMA-4, which are safe for outdoor use.
Where Can I Find an Electrician Near Me?
Poss Electric Company offers Woodstock and the surrounding communities a wide variety of electrical services, including EV charger installation. We can install a Level 2 EV charger in your home to keep you road-ready!
Need Financing? We Can Help!
Upgrading to a Level 2 charger is an investment. Poss Electric Company offers financing options to help you make that upgrade as soon as possible.
Contact Poss Electric Company Today
To request your EV charger installation or to get a quote, call us or use our convenient online contact page. When you partner with the team at Poss Electric Company, we'll get you on the road to faster, more convenient charging. Find out more today!