The magnificence and drama of a crystal chandelier cannot be matched by any other lighting medium. An amazing chandelier can cause one to become awe-struck. Beautiful and captivating, chandeliers come in an endless selection of finishes such as iron, brass, gold, and silver and designs including traditional, contemporary, and custom made art pieces. Some even come with colored crystals!

Chandeliers are a huge liability so make sure you have them installed by a licensed and insured professional . Poss Electric has been installing chandeliers all over North Metro Atlanta including Woodstock, Marietta, Canton, Kennesaw, Roswell, and Alpharetta since 2005! We have installed on one story, two stories, and even foyers and over stairs! We put your mind at ease by having the knowledge and experience to properly install your crystal chandelier. Below is a chandelier we just recently installed in Marietta. This captivates the more traditional chandelier style.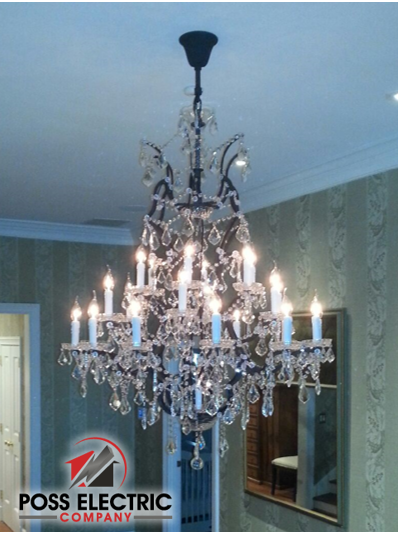 Chandeliers don't always have to be extravagant to make a statement either. This simple beauty was installed in Smyrna over some stairs in a foyer. Ths style emulates a more contemporary design.
When you are ready to install, give Poss a call. We are "The Home Electricians.'
404-787-7262