Have you ever wished that you could get rid of all your clunky RCA chargers and have the convenience of charging without trying to find them? With phones, iPhones, tabs, pads, Bluetooth, gaming systems and an ever-growing array or technology it just never seems that there are enough outlets either. With the increased demand on our charging abilities it's no wonder that the outlet with built in USB charging ports are exploding onto the receptacle scene!
Outlets with USB chargers are a convenience that can be installed in bedrooms, kitchens, offices, and any other room in your house. Standard USB charger receptacles generally come with two USB charging ports and two plug outlets however, a varied quantity of ports to plugs are available as well as several decorative styles and colors. There is even a spill proof, pop-up outlet designed for kitchen, bars, or any countertop surface when you need hidden power in an area that could possible get wet.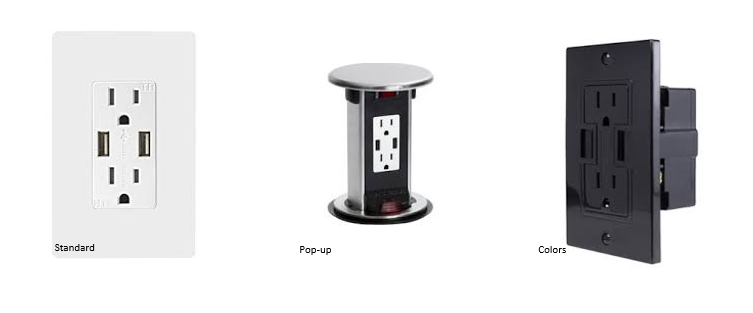 I don't know about you but with all the convenience and options for USB charging outlets I am ready to swap out all my existing outlets with these! Luckily, Poss Electric is having a special on USB Port charging devices. For our standard service call fee of $140 Poss Electric will retrofit your existing outlet into a standard tamper resistant USB charging outlet. Your first outlet is included in the service charge. 2-5 more outlets are $50 a piece, 6-10 outlets are $45 a piece, and any quantity 11 or over is only $40 each. This includes parts, labor, and Poss Electric's knowledgeable service and superior installation. See our special here.
Poss Electric is the number one residential electric professional in North Metro Atlanta. We have been servicing Woodstock, Canton, Kennesaw, Smyrna, Marietta, Alpharetta, Ballground, Cumming, Johns Creek and other Northern Metro Atlanta Areas for over 12 years. Call Poss Electric today at 404-787-7262 to see how can help simplify your charging needs at a level of excellence I am sure you expect TODAY! #thehomeelectricians #lightingupNorthMetroAtlanta #woodstockelectricians #cherokeecountyelectricians #residentialelectricpros