Introduction
Welcome to Woodstock, GA, your go-to guide for the top landmarks to visit in Woodstock, GA. This charming city, located in Cherokee County, is rich in history, culture, and natural beauty. In this article, we will take you on a virtual tour of Woodstock's most remarkable landmarks, each offering its own unique appeal. From historic sites to picturesque parks, get ready to immerse yourself in the captivating landmarks that await you in Woodstock.
Discover the Remarkable Landmarks of Woodstock, GA
1. Historic Downtown Woodstock 
Begin your exploration of Woodstock at its historic downtown area. With its quaint streets, restored buildings, and charming shops, Historic Downtown Woodstock is a vibrant hub of activity. Take a leisurely stroll and discover local boutiques, art galleries, and antique stores. Enjoy a meal at one of the many excellent restaurants or cafes, and soak in the lively atmosphere that perfectly combines the city's rich heritage with modern amenities.
2. The Park at City Center 
Nestled in the heart of Woodstock, The Park at City Center is a beloved landmark that offers a haven of green space and recreational activities. With its beautifully manicured lawns, walking trails, and playgrounds, the park provides an ideal setting for relaxation and outdoor enjoyment. Pack a picnic, take a leisurely walk, or simply unwind amidst the natural beauty that surrounds you. The Park at City Center is a delightful retreat for residents and visitors alike.
3. The Woodstock Visitors Center at Dean's Store 
For a deeper understanding of Woodstock's history and heritage, a visit to The Woodstock Visitors Center at Dean's Store is a must. Housed in a historic building, the center provides a wealth of information about the city's past, including its role in the railroad industry and the Civil War. Explore the exhibits, learn about notable figures and events, and gain insights into the development of Woodstock over the years. The Visitors Center offers a fascinating glimpse into the city's story.
4. Olde Rope Mill Park 
Nature enthusiasts and outdoor lovers will find solace in Olde Rope Mill Park. Situated along the banks of the Little River, this picturesque park offers scenic trails, a covered bridge, and access to the ruins of an old rope mill. Hike or bike along the trails, enjoy a picnic by the river, or try your hand at fishing. The serene ambiance and natural beauty of Olde Rope Mill Park make it a beloved landmark for locals and a hidden gem for visitors.
5. Dixie Speedway 
Experience the thrill of high-speed racing at Dixie Speedway, a renowned landmark for motorsport enthusiasts. This dirt track hosts exhilarating races, featuring powerful race cars and skilled drivers. Feel the adrenaline rush as you cheer on the competitors and witness the intense action on the track. Whether you're a racing fan or seeking a unique experience, a visit to Dixie Speedway promises an unforgettable outing.
6. Noonday Creek Trail 
Escape into nature and enjoy the tranquility of the Noonday Creek Trail. This scenic trail stretches for miles, winding along the banks of Noonday Creek. Lace up your hiking shoes or hop on a bike to explore the trail's natural beauty, diverse wildlife, and peaceful surroundings. The Noonday Creek Trail offers a rejuvenating escape from the hustle and bustle of daily life and takes you on a journey through Woodstock's natural wonders.
7. Elm Street Cultural Arts Village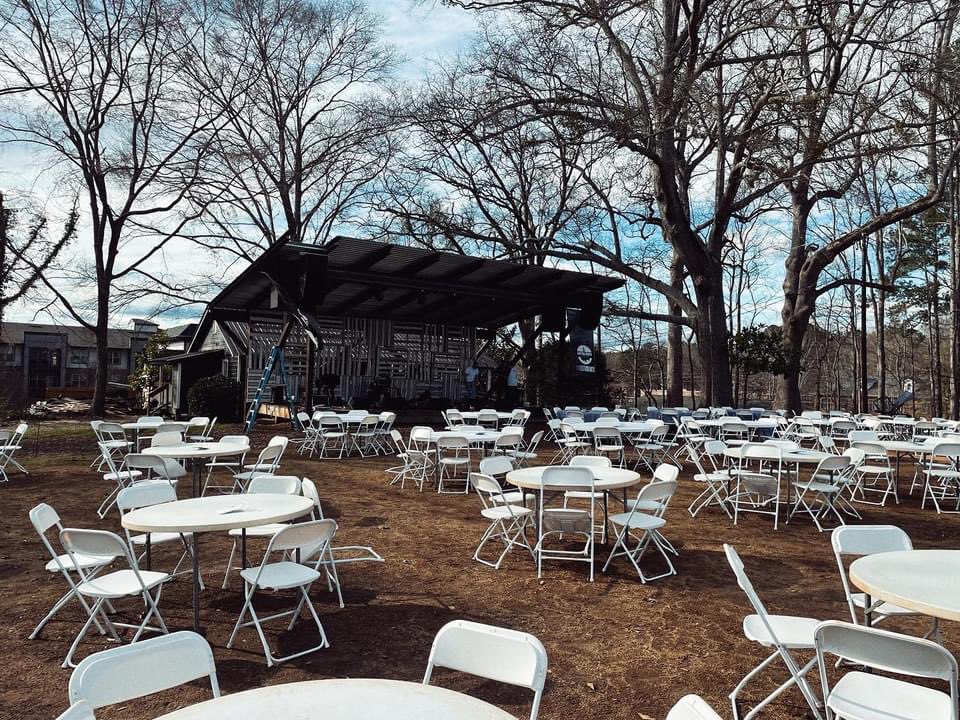 Immerse yourself in the vibrant arts and culture scene of Woodstock at the Elm Street Cultural Arts Village. This landmark is dedicated to promoting and showcasing local artists, musicians, and performers. Experience captivating theater productions, art exhibitions, live music events, and interactive workshops. The Elm Street Cultural Arts Village is a testament to Woodstock's commitment to fostering creativity and nurturing the arts.
8. The Greenprints Trail System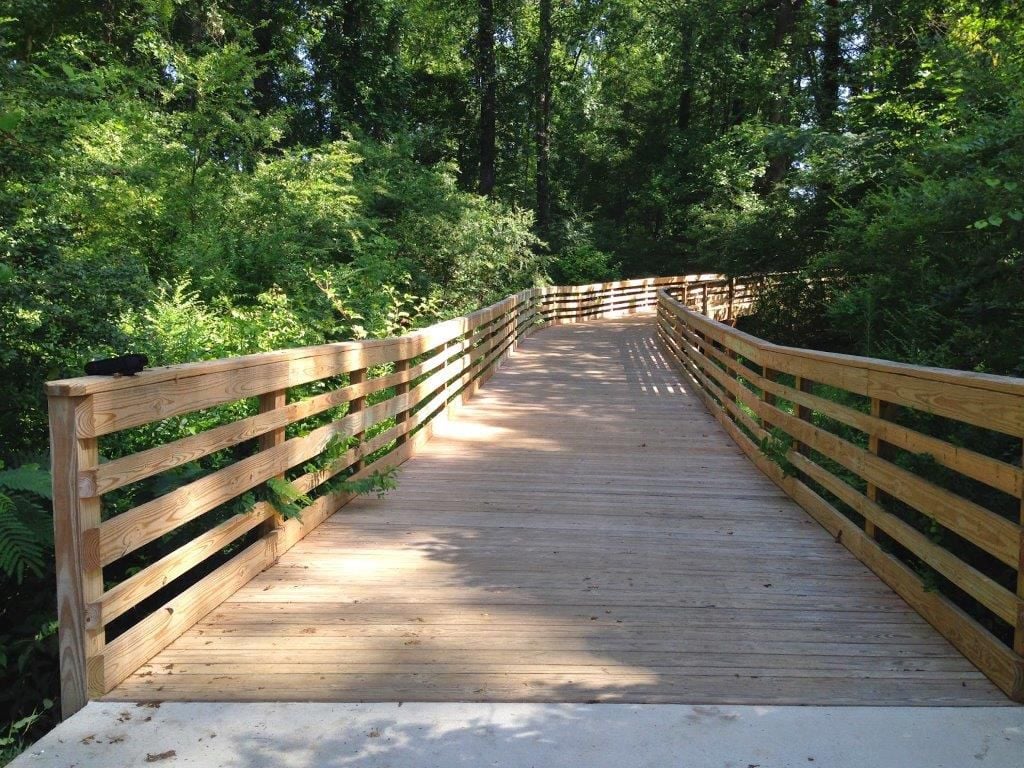 For outdoor enthusiasts and fitness enthusiasts alike, the Greenprints Trail System offers an extensive network of trails that winds through Woodstock's scenic landscapes. Whether you prefer walking, jogging, or cycling, these well-maintained trails provide a fantastic opportunity to stay active while enjoying the beauty of nature. The Greenprints Trail System connects various parks, neighborhoods, and landmarks, allowing you to explore Woodstock's charming surroundings at your own pace.
9. The Outlet Shoppes at Atlanta
Shopaholics and bargain hunters will find their paradise at The Outlet Shoppes at Atlanta. This premier shopping destination features a wide selection of popular brand-name stores, offering discounted prices on a range of fashion, accessories, home goods, and more. Indulge in a day of retail therapy, discover great deals, and enjoy a variety of dining options. The Outlet Shoppes at Atlanta is a must-visit for those seeking a satisfying shopping experience.
10. The Taylor Randahl Memorial Bike Trail
Named in honor of a local cyclist, the Taylor Randahl Memorial Bike Trail is a beloved landmark for biking enthusiasts. This scenic trail provides a thrilling and challenging experience for riders of all skill levels. Wind your way through Woodstock's picturesque landscapes, navigate thrilling descents, and conquer exhilarating uphill stretches. Whether you're a seasoned cyclist or a casual rider, the Taylor Randahl Memorial Bike Trail offers an exciting adventure.
Woodstock, GA, is a city that captivates with its blend of history, natural beauty, and vibrant culture. From the historic charm of downtown to the serene parks, engaging museums, and exhilarating outdoor experiences, Woodstock's landmarks offer something for everyone. Immerse yourself in the city's rich heritage, explore its breathtaking natural surroundings, and indulge in its vibrant arts and shopping scene.
For a comprehensive guide to the Top Landmarks in Woodstock, GA, and to plan your visit, visit Woodstock, Georgia. remarkable landmarks await your discovery!