So you are going to remodel your kitchen? Take your lighting plan into account right away. Many homeowners fail to plan their lighting needs accordingly or put it off as a last minute decision, and this will only lead to heartbreak later! What good is that beautiful oak cabinet and flashy new marble counter-top if no one can see them? Lighting choices are a huge factor in the ambiance and functionality of your kitchen. Consider these lighting types when designing your perfect kitchen.
Recessed lighting are placed within your ceiling and are unobtrusive yet powerful. Position them over sinks or appliances for task lighting. They can also be directed to a particular point of interest and are great for accent lighting.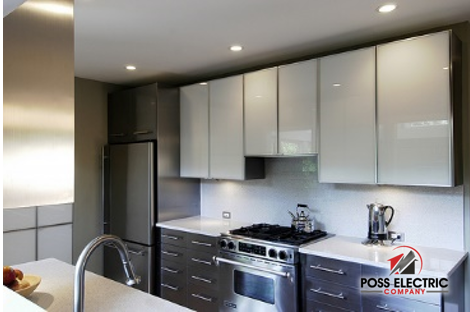 Pendant lights are not only functional but they come in a huge array of styles, colors, and designs. Pendants are ideal over islands, bars, and small dining room tables.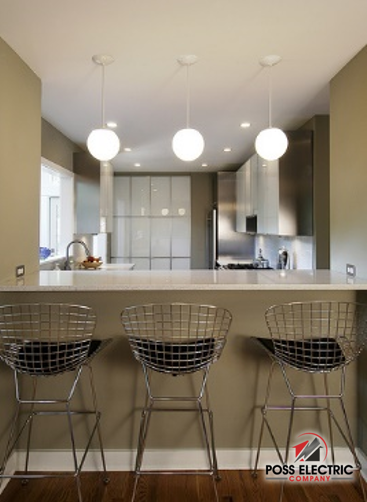 For the kitchens that can handle the size, why not a chandelier? Chandeliers also come in enormous variety of designs. A tastefully selected chandelier will be focal point and wow factor for the right kitchen.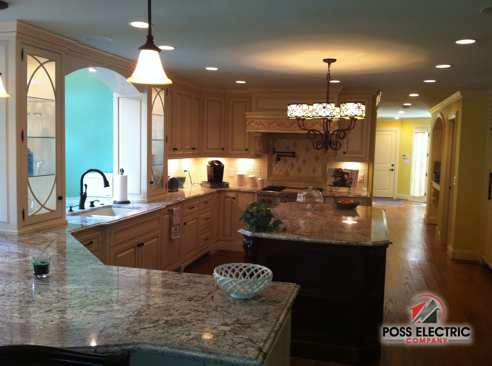 Need help installing lights in the North Metro Atlanta Area? You can rely on Poss Electric's electricians to do the job right! We have been serving the North Atlanta, Sandy Springs, Dunwoody, Roswell, Woodstock, East Cobb, Canton, Marietta and surrounding areas since 2005. Let us serve you next!